Penny in Lead Thumb
There is a delicate balance between having too much grip pressure and not enough. So often we are told to hold it light. Unfortunately, we can hold it too light and let the club out of our hands during the motion. Obviously this causes many problems. For starters you loose control of the clubface. Secondly, by taking the hands off due to looseness, you encourage a arms only swing motion with little body.
Try This Drill
Place a penny on top off your lead hand's thumb. Begin making practice swings and keep the penny attached at all times. You should feel adhesion of your lead thumd and trail palm all throughout the swing. To make sure this is happening correctly, stop at the top of your backswing once and look. You should see no air or pockets between you hands and the penny should be intact.
OTGS 6 Week School
Spring Classes Are Now Open!


The schedule is ready for the 2020 OTGS 6 Week Swing School. Meet an Hour a week for six weeks and learn to play better golf!
Sign up online »
Fall Jr. Golf League
League begins Sept 8th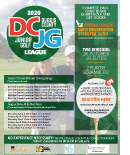 All participants must have some previous junior golf experience. Each week a different event will give the participant an opportunity to experience various forms of play within the game of golf as well as values, rules, and integrity.
Sign Up Now »