Table Top Drill
A couple of things need to happen to control your golf shots with regularity. The clubface needs to be square to the target-line as long as possible and the club needs to be swinging towards the target.
Here is a great drill for controlling the club face angle during the swing.
Try this drill
Hold the club out in front of your body. Keep the shaft horizontal to the ground, as if it were lying on a table. Notice that the clubface will be pointing straight up and down in a vertical position or perpendicular to the shaft (photo#1). Next, begin gliding the shaft back and through on this imaginary table (photo#2). The clubface should remain square at all times or vertical both back and through (photo #3). Only go back and through 90º or half way on each side. In order to do this exercise correctly, you will notice the roll of your hands and arms are minimized. Your body and large muscles control the rotary movement of the shaft. Ultimately, it is the body that controls the shaft. The shaft controls the hands. The hands are equal to the clubface.
Table Top Drill

(photo#1)

(photo#1)

(photo#1)
OTGS 6 Week School
Spring Classes Are Now Open!


The schedule is ready for the 2020 OTGS 6 Week Swing School. Meet an Hour a week for six weeks and learn to play better golf!
Sign up online »
Fall Jr. Golf League
League begins Sept 8th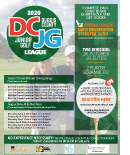 All participants must have some previous junior golf experience. Each week a different event will give the participant an opportunity to experience various forms of play within the game of golf as well as values, rules, and integrity.
Sign Up Now »