John Bertges / PGA Professional

John has spent over twenty years traveling around the world teaching & coaching the game of golf to players of all abilities. He has coached and trained the 2009 Indiana Open Champion - Aaron Monson. He has trained with Tom Wargo, Senior PGA Tour Player and former Senior PGA champion, and with Bill Davis (one of Golf Digest's Top 50 teachers in the US) at Jupiter Hills Club in Tequesta, Florida. He also spent time at the world renowned PGA West in LaQuinta, California, studying golf swing mechanics with such notables as Mac O'Grady.
In 2005, John was honored as the "2005 Guaranteed Golf's National Teacher of the Year"
From 2000 through 2002, John was a Division III women's golf coach for Millikin University in Decatur, Illinois. He led his team to two consecutive conference championships. He also led his team to a 6th place finish in the NCAA Women's Golf Championship. He was awarded "College Golf Coach of the Year" two years in a row by the NCAA's CCIW Conference.
In 2000, John is honored as being the first ever golf professional to teach a golf instruction certification school in China. John has started two golf instructional companies overseas. To date, John has taught over 25,000 individual lessons around the world.
In 1995, John became a Class-A PGA Professional.
In 1992, John was the Assistant Director of Instruction for the nationally recognized golf school United States Schools of Golf. In 1995, John became a Class A member of the PGA of America. In 1998, he became a member of the Professional Golf Teachers and Coaches of America. He is now recognized as a PGTCA Master Instructor.
Presently, John operates On Target Golf Schools of Indiana. He is also the director of instruction for all Guaranteed Golf Schools in Indiana.
OTGS 6 Week School
Spring Classes Are Now Open!


The schedule is ready for the 2020 OTGS 6 Week Swing School. Meet an Hour a week for six weeks and learn to play better golf!
Sign up online »
Fall Jr. Golf League
League begins Sept 8th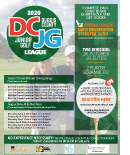 All participants must have some previous junior golf experience. Each week a different event will give the participant an opportunity to experience various forms of play within the game of golf as well as values, rules, and integrity.
Sign Up Now »